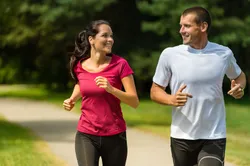 Functional Medicine Nutrition
"Functional medicine offers a powerful new operating system and clinical model for assessment, treatment, and prevention of chronic disease to replace the often outdated and ineffective acute-care models carried forward from the 20th century. Functional medicine enables physicians and other health professionals to practice proactive, predictive and personalized medicine which empowers patients to take an active role in their own health." Institute of Functional Medicine
Functional medicine incorporates the latest in genetic science, systems biology, and understanding how environment and lifestyle factors influence the emergence and progression of disease. It places more responsibility back on and empowering each individual patient through educating the patient on his/her causes of illness which are within their control, and offer practical solutions through lifestyle, diet, nutrition and other means, to give each individual a chance to thrive and express life to its fullest potential.
As a Chiropractor, I treat the whole person and their uniqueness, not the disease. I have a passion for truly helping patients, and a desire for the TRUTH.
Common Conditions for Functional Medicine in general:
Depression/generalized fatigue
Thyroid Disorders
G.I.problems (from acid reflux, bloating, IBS to ulcerative colitis)
Athletic performance
Menopause
Neurological disorders (Parkinson's, dementia)
Allergies
Asthma
Adrenal Insufficiency/dysfunction
Autoimmune
Osteoarthritis
Chronic pain
Headaches/migraines
Anxiety
Diabetes/insulin resistance
To begin nutritional care we will need any current laboratory blood work you have had within the last 3 months. It is necessary to have this testing done prior to giving recommendations. Blood chemistry gives me the most important information-more than any other single diagnostic tool. "Normal Ranges" are interpreted differently in Functional Medicine so if you have been told you are "normal" but are still feeling badly, you are in the right place!
Depending on the nature of your condition, number of tests and follow-up visits will vary.
COST:
$430.00 Initial Blood Panel (3x the size of a typical panel) and one hour consultation. Bloodwork is NOT released until your initial consultation. Your insurance company will NOT pay for this test.
$165.00 Initial Consultation (typically 1 hour)
$65.00 1/2 hr existing patient consults as needed
It has become my passion to help people who have not found answers elsewhere. This takes time and commitment. If you are ready, I look forward to beginning your journey of health with you!
CALL DR.KATHIE LUNNON NOW 774-325-0444 AT CASTLE ROCK NATURAL HEALTH FOR A FREE 15 MINUTE FUNCTIONAL MEDICINE MODEL CONSULTATION TO SEE IF THIS IS RIGHT FOR YOU!